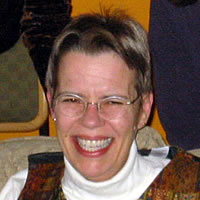 Mary Fran Myers
The Mary Fran Myers Scholarship
2016 Scholarship Application will be available mid January
Deadline: To be announced

Mary Fran Myers was co-director of the Natural Hazards Research and Applications Information Center at the University of Colorado for 16 years until her untimely death in 2004. Reducing disaster losses, nationally and internationally, was her life's work.

During her tenure, Mary Fran was instrumental in maintaining the Natural Hazards Center's international reputation as a driving force in hazards research and mitigation. Her work helped bring about a fundamental change in national and international perspectives regarding hazards and helped institute new, more farsighted and sustainable ways of dealing with extreme environmental events.

Mary Fran was much more than her job title. She provided leadership, guidance, grace and laughter, and established a standard of excellence her colleagues admired and strived to emulate. She was an innovator, mentor and creative spirit who touched many lives and whose legacy has had a lasting impact on the global hazards community.

The Mary Fran Myers Scholarship

Each summer, the Natural Hazards Center hosts an invitational Hazards Research and Applications Workshop in Colorado. The workshop brings together more than 400 members of the hazards community who are working to alleviate the pain and loss inflicted by disasters.

One of Mary Fran's primary concerns was ensuring that representatives of all ages, professions and communities be represented at the workshop. Mary Fran recognized that many people and organizations who could greatly benefit from and contribute to workshop activities—including, in particular, local practitioners, students and international professionals—were among the least likely to be able to afford the meeting.

In 2003, members of the hazards community established the Mary Fran Myers Scholarship to fulfill Mary Fran's explicit request that qualified and talented individuals receive support to attend the workshop. The intent of the scholarship is to bring new and fresh perspectives—and otherwise unheard voices—to the workshop.

The Mary Fran Myers Scholarship provides financial support to recipients so they can attend and participate in the workshop and further their research or community work and careers. This scholarship covers part or all of the costs of transportation, hotel accommodations, meals and workshop registration fees.

The Mary Fran Myers Scholarship is awarded annually to at least one potential workshop participant, who is then formally invited to the workshop. Each year, the recipient or recipients are recognized at the workshop and may be asked to serve as panel discussants, where they can highlight their research or practical experiences in the hazards and disasters field.

Eligibility and Application Procedure

All hazards researchers, students and practitioners are eligible for the Mary Fran Myers Scholarship. Regrettably, those who have attended the Hazards Workshop previously are not eligible for the Mary Fran Myers Scholarship. For the 2016 competition, applicants must reside in North America or the Caribbean, but do not have to be citizens of those regions. Applicants from other regions of the world will be eligible for the scholarship in 2016. Preference will be given to those who can demonstrate financial need as well as a strong commitment to disaster management and mitigation.

Applicants must complete the Mary Fran Myers Scholarship 2016 Application Form, available from the Natural Hazards Center's website at:
www.colorado.edu/hazards/awards/myers-scholarship.html

An application form can also be requested by calling the Natural Hazards Center at (303) 492-6818 or emailing Lori Peek at lori.peek@colostate.edu

Four typed copies of the completed application should be mailed to:

Mary Fran Myers Scholarship
c/o Lori Peek
Natural Hazards Center
University of Colorado
482 UCB
Boulder, CO 80309-0482

Application Deadline: March 26, 2016

Special Thanks

The Mary Fran Myers Scholarship was made possible by generous contributions from numerous individual donors as well as support from the Association of State Floodplain Managers, Extension Disaster Education Network, Public Entity Risk Institute, and Red River, North Dakota, High School Classroom Teachers Association.