Recognition Awards
The ASFPM Foundation thanks all who have generously donated to help us continue to be successful. We give a special Recognition Award to those who have been committed to the foundation by giving regularly. These awards are based on the cumulative sum of historical donations. The presentation of plaques and certificates are made each year at the ASFPM annual conference. The foundation encourages everyone to be a part of these great achievements and asks that you individually congratulate the award recipients as well. The donation levels are as follows:
Diamond $100,000+
Emerald $50,000-$99,999
Ruby $25,000-$49,999
Sapphire $10,000-$24,999
Topaz $5,000-$9,999
Pearl $1,000-$4,999
ASFPM Foundation Donations Recognition Awards
1995 through March 2017
Some of our generous donors

Grant Smith, Dewberry, receives the Emerald Award from Wally Wilson.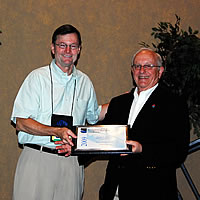 Tom Waters, CHM2 Hill Inc., receives the Pearl Award from Wally Wilson.

Don Armor, Stantec Consulting Inc., receives the Pearl Award from Wally Wilson.

Jeff Sparrow, Michael Baker Corp., receives the Ruby Award from Wally Wilson.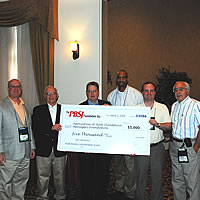 Larry Hentz, Wally Wilson, Dale Lehman, Garrett Skinner, Mike DePue and Mike Pavlides with a great big donation from PBS&J.
Diamond Award Recipients
AECOM (includes URS Corp.)
Dewberry
Michael Baker Jr., Inc.
The Widgeon Foundation
Emerald Award Recipients
Atkins North America, Inc. (includes PBS&J)
Stantec Consulting Inc. (includes Greenhorne and O'Mara)
Ruby Award Recipients
CDM Smith
ESP Associates, PA
H2O Partners, Inc.
Illinois Association for Floodplain and Stormwater Management
Sapphire Award Recipients
AMEC Earth and Environmental
Arizona Floodplain Management Assn.
Black and Veatch
Booz Allen Hamilton, Inc.
CH2M Hill Inc.
Compton Foundation
HDR Engineering, Inc.
Jacob and Terese Hershey Foundation
Larson, Larry and Jennie
Moffatt and Nichol
Molly O'Toole and Associates
New England Floodplain and Stormwater Managers
Olinger, Larry and Adrienne
Pavlides, Mike and Marie
Texas Floodplain Management Association
W.A. Wilson Consulting Services LLC
Willis Powers Watson
Topaz Award Recipients
Anderson Consulting Engineers
Arcadis
Berry A. Williams and Associates
Colorado Association of Stormwater and Floodplain Mgrs.
Edelman, Scott K.
FloodMaster Barriers, Inc.
Georgia Association of Floodplain Management
Jones, Christopher P.
Kimley-Horn and Associates, Inc.
Lehman, Dale
Michigan Stormwater-Floodplain Association
North Carolina Association of Floodplain Managers
Oklahoma Floodplain Managers Assn.
Plasencia, Doug and Beth
RCQuinn Consulting, Inc.
Reznick Group, PC
Sheaffer, Jack
SmartVent, Inc.
Smith, Grant M.
Turner, Terri
Thomas Edward A.
Wetmore, French and Mary Lu
White, Gilbert F.
Pearl Award Recipients
Alabama Association of Floodplain Managers
Armstrong, Michael
Association of Floodplain Managers of Mississippi
ATCS, PLC
Beik, Siavash
Bender Consulting Services, Inc.
Berginnis, Chad
Bowker, Peggy
Brown, Diane and Klitzke, Mike
Bruno, Joseph
CADDScan Engineering, Inc.
Carlton, Dave
Casebier, Markie
CC Consults
Christopher B. Burke Engineering, Ltd.
Conrad, David and Diverstein, Paula
DiCamillo, Vincent
Forest, Mark
Fowler, Dave
Greenwood, David J.
Griffith, Beverly
Halff Associates
Howard, JoAnn
HR Wallingford
Ideation, Inc.
Inderfurth, Meredith
Indiana Association for Floodplain and Stormwater Management
Institute for Business and Home Safety
Jones, Lisa (Carolina Flood Solutions)
Juza, Bohumil
Koch, Matthew
L.A. Bond Associates
Louthain, Jerry and Donna
Lulloff, Alan and Kate
Markarem, Firas
Maurstad, David
McCormick, Timothy
McMaster, Steve and Andrea
McShane, John H.
Medlock, Samantha R.
Miller, Matthew B.
Miller, John A.
Mills, Deborah
Minnesota Association of Floodplain Mgt.
National Lenders Insurance Council
Nebraska Floodplain & Stormwater Management Assn.
Ohio Floodplain Management Assn.
OST, Inc.
Outreach Process Partners
Pogue, Pamela
Powers, David
Raja, Gopal
Richardson, Peter
Riebau, Mark and Kaye
Riedel, George and Pam
Risk Prepared
Roper-Graham, Janice
Sauvageot, Alisa
Shodeen, Inc.
Sid W. Richardson Foundation
Skipwith, Walter
South Carolina Association for Hazard Mitigation
Stewart, David W.
Taylor Engineering
Taylor, Rhonda
Tennessee Association of Floodplain Mgrs.
The Council Oak
Thomas, Frank H.
Titan Corp.
Transamerica Flood Hazard Cert.
Virginia Floodplain Management Assn.
Waters, Thomas W.

Please make it a point to support the ASFPM Foundation so that we can continue to serve your needs.
Download a .pdf of the list of awarded recipient levels.