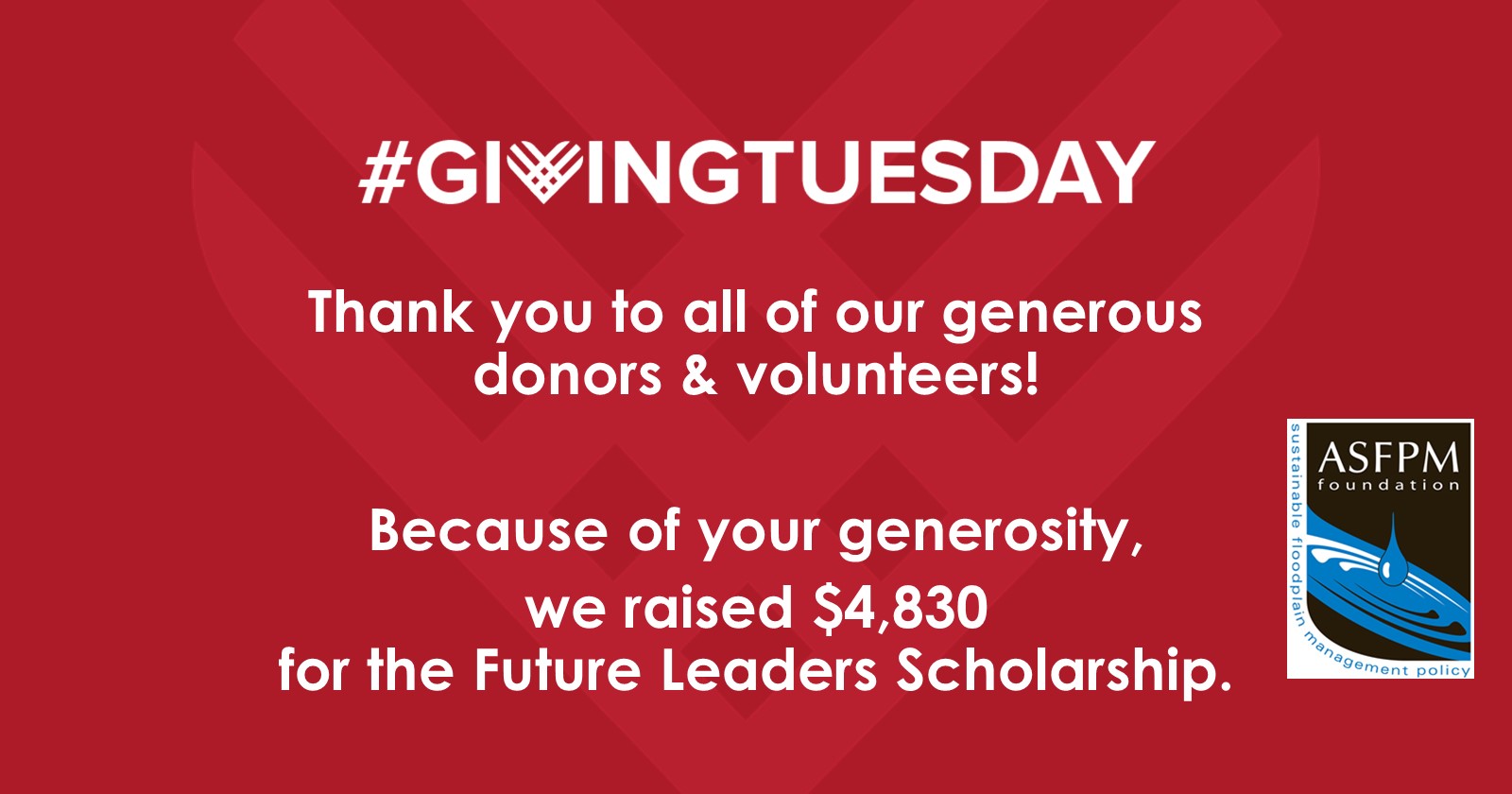 REMINDER: Student Paper Competition abstracts are due by Jan. 12
Do you know a full-time university student enrolled in floodplain management-related courses? Please encourage them to enter the ASFPM Foundation's 9th Annual Collegiate Student Paper Competition. Finalists receive a stipend to help with travel expenses to present their papers at the 2019 ASFPM annual national conference May 19-23 in Cleveland, Ohio. Prizes of up to a $1,000 scholarship will be awarded.
Any full-time student, or team of students, enrolled at any college or university is eligible to submit an abstract on subjects relating to floodplain or stormwater management. Some related fields include engineering, geology, geography, planning and public administration. A list of suggested topics is available here.

Abstracts of 500 words or less must be submitted by Jan. 12. Abstracts will be reviewed by an ASFPM Foundation panel. Three semi-finalists will be invited to submit a full paper due April 12. Semifinalists will be invited to present their papers at a special session at the ASFPM annual national conference May 21. Papers and student presentations will be judged by a panel of floodplain managers and winners will be announced at the conference awards luncheon May 23. Learn more about the competition requirements and about past finalists here.
VISION STATEMENT
The Association of State Floodplain Managers Foundation is dedicated to reducing the risk and impacts of floods on people and communities.
MISSION STATEMENT
ASFPM Foundation serves as the catalyst for ASFPM, its chapters and members to advance projects, education and policy initiatives that promote reduced flood risk and resilient communities.
ASFPM FOUNDATION ACTIVITIES AND EVENTS
The ASFPM Foundation proudly supports the education of current and future flood risk management professionals.
Current college scholarship opportunities
include the ASFPM Foundation Future Leaders Scholarship and the annual ASFPM Student Paper Competition. Activities, events and scholarships are made possible due to the support of ASFPM Foundation donors.
SUPPORT THE FOUNDATION
HELP US
to continue to enhance the practice and science of floodplain management, to make this world a safer place for present and future generations. To ensure the continuation of forums, floodplain management research and scholarships, your donation is needed! Help support the goals of the ASFPM Foundation by
donating
today.
GIVING
When you give to the ASFPM Foundation you support a variety of initiatives that reduce suffering and losses as a result of flooding, and promotes sustainable management of the nation's floodplains and watersheds. By donating, you set an example for fellow floodplain managers and do much to ensure our profession's continued national influence. Choose to make a one-time gift, or enroll in our recurring giving program to support our efforts year round. GIVE NOW.
Please send pledges and donations to:
Association of State Floodplain Managers Foundation
575 D'Onofrio Drive, suite 200
Madison, WI 53719