Student Paper Competition
ASFPM Foundation's 9th Annual Collegiate Student Paper Competition
Every spring the Association of State Floodplain Managers conducts an annual national conference that attracts more than 1,200 people for a week-long event that showcases state-of-the-art techniques, programs, resources, materials, equipment, accessories and services to accomplish flood mitigation, risk reduction and other community goals. Since 2011, the ASFPM Foundation has sponsored a student paper competition. The goals of this program are to encourage student engagement in floodplain management topics and to identify talented individuals with the potential to make lasting contributions to floodplain management body of knowledge.
Teams consisting of one or more students submitted abstracts on subjects relating to floodplain or stormwater management in January. The abstracts were judged by a panel of floodplain management professionals and three semi-finalists were invited to submit their papers in April and then present their papers at the at the 2019 ASFPM annual national conference on May 21, 2019 in Cleveland, Ohio.
The papers and student presentations were judged by a panel of floodplain managers. Winners were announced at the awards luncheon on Thursday, May 23, 2019. First Place: $1,000 scholarship; Second Place: $500 scholarship; Third Place: $250 scholarship.
This year's winners are:
| | | |
| --- | --- | --- |
| | | |
| Jasmine Thomas | 2019 Student Paper Competition Question & Answers | Nora Schwaller |
---
Past Student Papers
2018 Collegiate Student Paper Competition in Phoenix, Arizona
The Case for a Floodplain Enhancement Rating System: Has the time come for an ASFPM accreditation program?, by John MacDougall, Pamela Reber, Evan Stewart and Paul St. Louis from University of Washington-Seattle
Who Knows What Comes Tomorrow: A Case Study of Resilience in Boulder County, Colorado, by Simone Domingue, a PhD student in the Department of Sociology from University of Colorado-Boulder
Winners of ASFPM Foundation's Student Paper Competition. L-R: ASFPM Foundation President Doug Plasencia, Pamela Reber and Simone Domingue. Photo by John Hays.








2017 Collegiate Student Paper Competition in Kansas City, Missouri
Exploring the Concept of Cumulative, Probabilistic Flood Hazard Maps, by Maryellen Hearn from Technical University of Dresden, Erasmus Mundus Flood Risk Management Master
After the Flood: Exercising Best Practices in Property Acquisition Programs and Open Space Projects, by Ashton Rohmer from the Department of City and Regional Planning, University of North Carolina – Chapel Hill
Quantifying the Future Flood Impact and Damages in the Chesapeake Bay Regions Due to Storm Surge, Sea Level Rise and Marsh Migration, by Ali Mohammad Rezaie from Civil Environmental and Infrastructure Engineering, George Mason University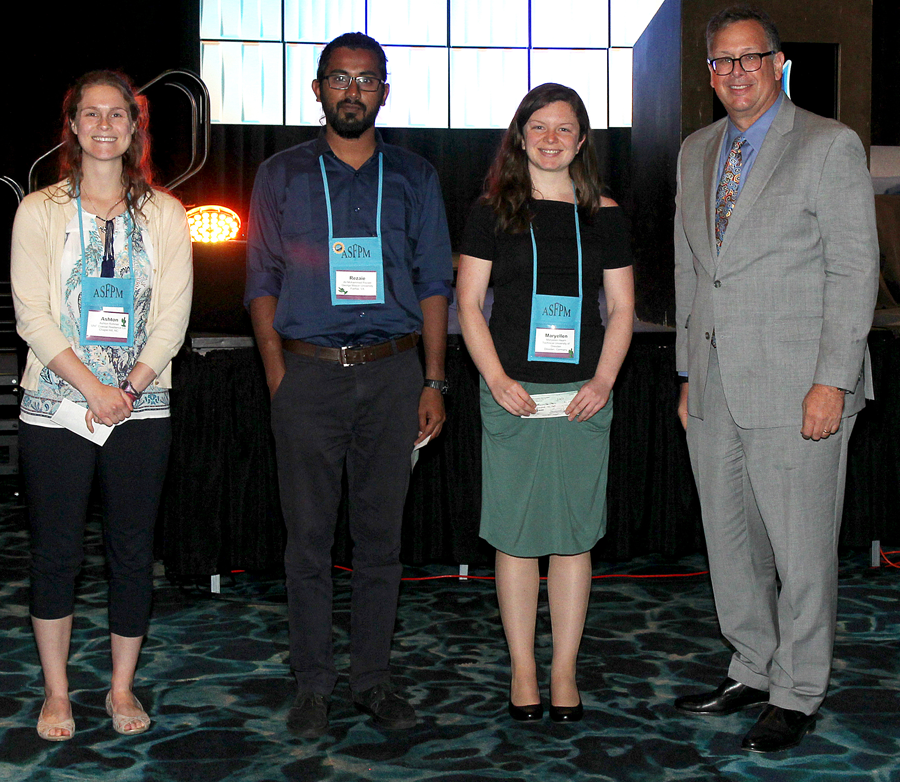 2017 competitors L-R: Ashton Rohmer (2nd place), Ali Mohammad Rezaie (3rd place), Maryellen Hearn (1st place) and ASFPM Foundation President Doug Plasencia.

2016 Collegiate Student Paper Competition in Grand Rapids, Michigan
Large Scale High Resolution Flood Inundation Mapping in Real Time, by Adnan Rajib from the Lyles School of Civil Engineering at Purdue University
Evaluating Risks of Dam-Reservoir Systems Based on Rare Event Simulation, by Qianli Deng, a student in the Department of Civil and Environmental Engineering at the University of Maryland-College Park
Assessing Sediment Accumulation in Reservoirs Behind Dams in the Lake Erie Watershed from Past to Present, by Fatemeh Alighalenbabakhani, a Department of Civil and Environmental Engineering at Wayne State University-Detroit
2016 competitors L-R: ASFPM Foundation President Doug Plasencia, 2nd place winner Qianli Deng, 1st place winner Adnan Rajib, and 3rd place winner Fatemeh Alighalenbabakhani. Photo by Michele Mihalovich.
2015 Collegiate Student Paper Competition in Atlanta, Georgia
Developing Flood Loss Curve for City of Sacramento, Md Nowfel Mahmud Bhuyian
Salmon Refuge: The Endangered Species Act and FEMA's NFIP, Patrick Johnson
Mitigating Calgary, Alberta's Vulnerability to Flooding, Adnya Sarasmita
2015 Competitors, Pictured L-R:
Adnya Sarasmita, University of Washington, 2nd place; Patrick Johnson, University of Idaho, 1st place; Md Nowfel Mahmud Bhuyian (Tanvir), University of Tennessee Technological University, 3rd place.
2014 Collegiate Student Paper Competition in Seattle, Washington
Bioretention Research and Demonstration Project, Grant Livingston
Preventing Flood Damage to Businesses in Historic Downtown Snoqualmie, WA, Kristen Vitro
Mitigating Total Flood Impacts through Intentional Flooding in Agricultural Land along the Lower Nooksack River, Francesca White

2014 Competitors, Pictured L-R:
Grant Livingston, Oregon State University, 1st place
Kristin Vitro, University of Washington, 2nd place
Francesca White, University of Washington, 3rd place
Doug Plasencia, ASFPM Foundation President
2013 Collegiate Student Paper Competition in Hartford, Connecticut
Flood Resistance to Flood Resilience: Mapping our Water Systems Below to Understand how to Shape Our Land Above, Kendra FitzRandolph
Fish and Floods: Implementation of the 2008 Biological Opinion on the National Flood Insurance Program in Washington State, Meg Olson
2012 Collegiate Student Paper Competition in San Antonio, Texas
Risk Analysis and Damage Assessment for Flood Prone Areas in Washington DC, Arian Lessani
Historic Levees and Cultural Resource Management in South Jersey, Jesse Lattig and Marshall Tidwell
2011 Collegiate Student Paper Competition in Louisville, Kentucky
Uncertainty Analysis in Flood Inundation Mapping, Younghun Jung
The Effect of Land-cover Changes on Lag Time in the Banklick Creek Watershed, KY, Katelyn Toebbe
Project Safe Haven: Vertical Evacuation Opportunities on the Washington Coast, Jeana C. Wiser